You're probably wondering who wins between Yamaha EG 112c vs Pacifica? Well you've come to the right place, below we get the down and dirty on these two classic beginner guitars. Which camp are you in?
Top Features For EG 112c and Yamaha Pacifica: 
Yamaha EG 112c Electric Guitar
EG 112c has a more traditional shape and feel with a rosewood fingerboard
Humbucker pickup
Yamaha 112c has a solid Sitka spruce top 
Comes in black, natural, and sunburst finishes
Yamaha Pacifica 112 Electric Guitar
Pacifica has a more modern design with a maple fingerboard
Single-coil pickup
Tone Knob
Black, Blue, Red Finishes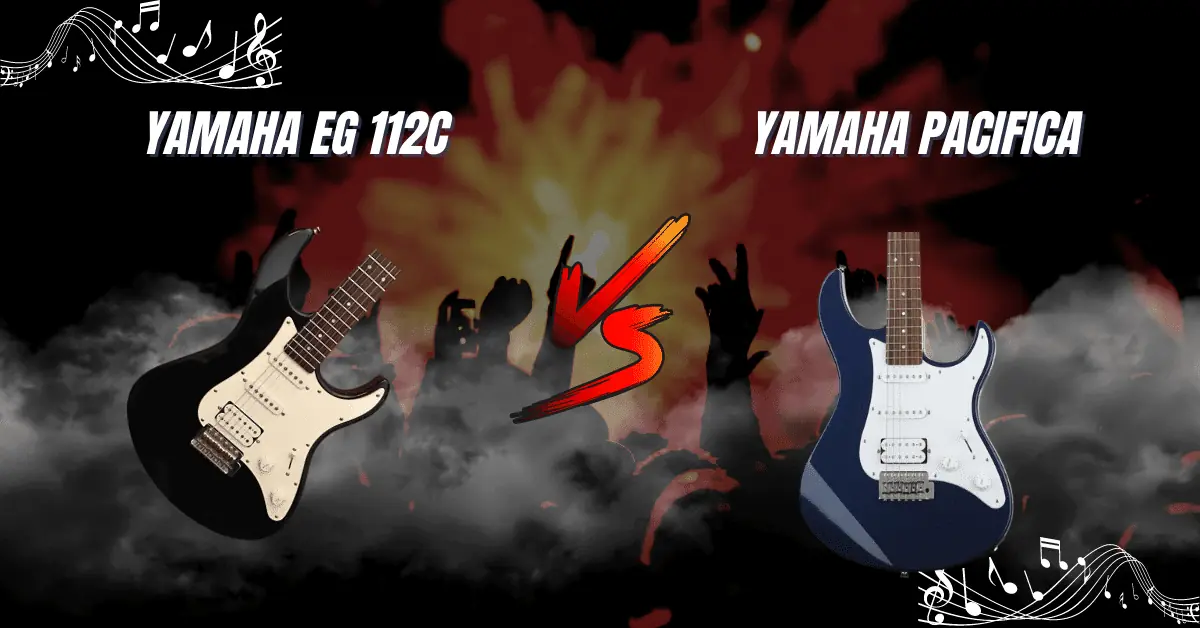 Yamaha Pacifica vs EG 112c: What are people saying?
Yamaha EG 112c:
I got an eg112c as my first guitar about 11-12 years ago. Still plays great considering its cheaper price point. It sounds good enough to get the job done but without committing to spending a lot of cash. Honestly, a perfect beginner guitar in my opinion!
The EG112C electric guitar is a great guitar for the price. It is perfect for playing rock and has a humbucking pickup for a great sound. It comes with a Yamaha GA-10 amplifier, gig bag, strap, and tremolo arm. The only downside is that the low e string has a buzz to it, but other than that it is a great guitar.
Yamaha Pacifica
My starter guitar is the Yamaha Pacifica (112v I think). I still absolutely love it and never let me down after about 10 years. I use the whammy bar even (only for some slight vibrato though) and it stays in tune pretty good. You can always screw the whammy bar off and just not use it.
Overall, I LOVE THIS GUITAR. It has served me well for the years I have had it and nurtured me to become the musician I am today. It may be broken now, but I vow to restore her too much more than her former glory. If you are looking for a beginners guitar, I recommend the Yamaha. It's better than many others out there, and it's versatile too. I have had a good run with this guitar, and keep it displayed with pride in my room.
The Specs Breakdown
 
Yamaha EG 112c vs Pacifica
 

 

Yamaha EG 112c

 

Yamaha Pacifica

Brand

Yamaha
Yamaha

Price

$175
$230

Number Of Strings

6
6

Available Colors

Black, Metallic Blue, Metallic Red
Black, Blue, Red

Body

Body Type

Solid Body
Solid Body

Body Material

Alder
Mahogany

Body Bridge

Vintage-Style Tremolo
Vintage-Style Tremolo

Neck

Neck Shape

S Style
Pacifica C

Neck Material

Maple
Maple

Neck Joints

Bolt-On
Bolt-On

Scale Length

25.5″
25.5″

Number Of Frets

22 Medium Jumbo
22 Medium

Nut Width

1-5/8″
13.78″

Hardware & Electronics

Bridge Pickup

Single Coil x 2, Humbucker x 1
Ceramic Humbucker (Humbucker / Passive)

Neck Pickup

Single Coil x 2, Humbucker x 1
Ceramic Single Coil (Single Coil / Passive)

Switch

5 position lever
5 Way

Volume Knobs

1
1

Tone Controls

1
1
 
7.7/10
7.4/10
---
Is it worth buying the Yamaha EG 112C Guitar?
The Yamaha EG 112C is a great guitar for beginners. It has a comfortably contoured body, making it easy to hold and play, and also has a built-in tuner, so you can always keep your guitar in tune. Plus the rosewood fingerboard and a maple neck, give it a warm, rich sound. The Yamaha EG 112C also comes with a gig bag, which is great for a novice player.
Is it worth buying the Yamaha Pacifica Guitar?
The Pacifica models were originally designed in 1990 by Trev Wilkinson and produced in Japan by Matsumoku. The Pacifica has become one of Yamaha's most popular guitar models.
A versatile guitar, perfect for a beginner. It features a humbucker/single-coil/humbucker configuration and a vintage-style tremolo system. The Pacifica also has a rosewood fingerboard and chrome hardware.
Whichever you decide, both these guitars pack a bang for your buck to help make the sickest Guitar Moments!